Precious Allen
2021 Illinois Teacher of the Year Finalist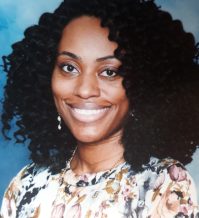 In the enchanting world of academics, where young minds are akin to seeds ready to sprout, Precious Allen found her true calling as an Elementary School teacher that implements STEMM (Science, Technology, Engineering, Mathematics, and Medicine) across all content areas. She has a relentless pursuit to ignite curiosity, inspire innovation, and cultivate a deep love for learning within the hearts of young scholars. She has introduced Robotics, Computer Coding, Electrical Engineering, Forensic Science, DNA Genetic Studies and Dissecting into her primary and intermediate classrooms and is an advocate for ensuring that students have access to equitable opportunities in STEMM related careers. As she enters her 12th year in education, she continuously searches for opportunities to connect her classroom to global platforms, such as iearn.org, to provide her scholars with the requisite skills needed to be globally competitive citizens.
Precious is a Teach Plus Policy Alumni and is part of an original group of teachers that conceived the Racism-Free Schools Act. Their original framework/model policy is now a law in Illinois that is awaiting signature by the Governor and is anticipated to go into effect in August 2024. The Racism-Free Schools Act "Provides that each school district must create, implement, and maintain an age-appropriate policy on race-related harassment and discrimination."
Precious served as Co-chair of the Educator Committee at Advance Illinois (2021-2023). During her leadership position, she participated in advocacy campaigns, hosted House Meetings, provided general outreach, supported social media advocacy, attended legislative meetings in Springfield IL, and delivered testimonies to the Illinois State Board of Education (ISBE). As opportunities arose, she was able to travel to Springfield, IL and speak to State Senators, State Representatives, and local legislators about elevating the experiences of those directly impacted by educational inequalities related to School Funding Equity, Educator Pipeline, Learning Renewal, Early Childhood Funding, Higher Education, etc.) She was selected by Advance Illinois to provide counsel for the Advance Illinois Report. The Advisory Council for the Advance Illinois Report was composed of national and local experts and practitioners that collaborated on a quantitative report focused on the state of the educator pipeline in Illinois. The goal of the report: 1) Provided data-based information around Illinois' educator shortage; 2) Identified what we do & do not know about the impact of COVID-19 on the educator pipeline; and 3) Collated educator pipeline landscape information in one place so that connections can be made across different parts of the pipeline.
She further developed her skills in reviewing district policies and procedures to ensure that they promote Diversity, Equity, and Inclusion (DEI) and do not perpetuate biases or discriminatory practices; including policies related to hiring, curriculum development, student discipline, and school culture. Precious utilized data to inform decisions and evaluate the effectiveness of different programs and initiatives. This includes analyzing student performance data, financial data, and other key metrics to identify trends and patterns such as looking for evidence-based practices and research to inform decisions.
Precious was nominated as a "Global Goodwill Ambassador" by the GGA Foundation. She was recognized for her dedication to human rights and her passion for global policies in education.  She's hosted projects through her "Global Initiative for Tomorrow" (G.I.F.T.) campaign; where she collected educational donations for a school for children with special needs in Lagos, Nigeria. Precious' goal is to continue to scout out international schools that are affected by the injustices of educational policies and supply them with instructional tools needed to experience a quality education.
Precious graduated from National Louis University with a Bachelors of Arts in Elementary Education, a Masters of Arts in Reading Specialist, an Education Specialist (Ed.S) in Administration and Educational Leadership. She is currently completing a Doctoral degree in Education, Policy, Organization and Leadership: Learning Design and Leadership (EPOL-LDL) at the University of Illinois - Urbana Champaign.