Why I hate reading. And you should, too.
Posted: Mar 18, 2020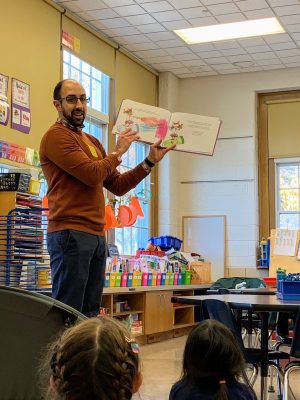 It's #MarchIsReadingMonth, and everywhere you look, people are talking about reading. From what we're reading to our kids, and what activities for reading they are doing in schools, to what books we ourselves are reading this month, there's no shortage of conversation about reading.
When I look back on my time in grade school, I think of many fond memories. However, contrary to what you might think—for an author, writer, and educator—reading is not one of those memories for me. In fact, reading was one of the things that I hated most about school growing up. I was a slow reader. A...pain...fully...slow...reader. And I still am. 
Maybe you can relate. I had great decoding skills and could pronounce the most sophisticated polysyllabic words, but my fluency, though smooth, was slow. And my comprehension was definitely not the best. In fact, I would get so bored reading a book, even if it was something I wanted to read, that I felt restless and physically uncomfortable. I would often give up on books well before I was being asked to by my teachers—or should have. But I was a fairly dutiful student, so I worked around my reading aversion, and no one was the wiser.
This continued into high school, where I got audiobooks and summary notes for books to help shortcut the drudgery that was reading novels. Ugh. It makes me exhausted just thinking about it now. In college, the reading load grew—exponentially it seemed—as did my reading-associated stress, and my mitigating attempts to shirk reading became more pronounced, too. 
I boldly confess that throughout college I would read just enough of a chapter to know just enough of something that I could volunteer a thought about the text. Then, I'd be the first one to raise my hand the next day and get my "participation points." 
Now, don't get me wrong here. I absolutely loved learning and was a total geek for the topics I studied in school. I just hated reading. It probably didn't help that I had an eye disease growing up, which required me to get cornea transplants in my early twenties. But somehow, I gleaned enough information from class discussions and things that I heard or watched to have a solid understanding of the content to graduate with honors. 
Having gone into education as a career move, I found myself doing a lot more reading for my job—and my masters degree—and this was reading that could not be corner-cut or skipped. That's when something seemed to flip for me about reading. It no longer felt like a chore, my comprehension and fluency seemed to improve, and my desire to read books and articles increased, profoundly so, as a matter of fact. 
What was it, you ask? 
If I'm being really honest, it's this: my 'why' behind reading changed. Reading went from being something that happened
to
me to something that happened
for
me. 
When I became a father, I wanted to prepare—and someone would recommend a book on parenting or sleep. When I wanted to be a better teacher, I needed to know more—and someone would recommend a book. When I reached the point in my career that I was busier than ever before and could barely keep all the plates spinning in my career—a book crossed my path. And when I had reached the lowest point personally and professionally I have ever been at in my life—when I felt that I had lost my purpose, direction, and meaning in life—people recommended books to me. And you won't believe it, but I read every one of them. 
I can even remember a student telling me that he was reading a book once, and how it was having an influence on his life, and he said, "Mr. Abud, I feel like you'd enjoy this book—it has a lot of stuff that reminds me of you." So, I read it! And guess what? He was right!
I've spent a lot of time reading in the past several years, way more than in the decades before that I spent in school. And you know what? Every book, which someone recommended I read, impacted my life. Every. Single. One. And that made me want to read more, because it was reading for me.
It was the feeling of personal development that came with reading—a feeling I never experienced in all my education—that made me fall in love with reading. And now, reading is an inbuilt part of my daily life and regular routine. It's something I make time for and look forward to doing. I'm still not a fast reader, but it doesn't matter now, because I am a strong reader and a person who loves reading.
I think this is something that we overlook in education. We have students pick books because they look like they'll be a good read, we require students to read books as part of what they should know. Things like these are examples of reading that happens to you, not for you, because we are fitting kids to books. If we never take the time to personalize reading for students—in other words, fit books to kids—there will continue to be very little ownership over reading or personal capital that students have invested in the reading process. 
Sure, grades are on the line when it comes to reading in school, but whether you earn an A or get a D because of reading, it probably won't develop your character, enhance your personal state, or speak directly to your life situation. At least, it won't do that intentionally or necessarily. 
But what if it could? 
We don't often get a profile on the person behind the student who is the reader: who is she? What's going on in his world? What season of life is he in right now? If we had a profile that went deeper than lexile levels, maybe we'd be able to better match books to people, not just to their reading abilities.
As a dad to a kindergarten student, I have grown to see the importance of reading in my own daughter's life. Watching her learn to read has been one of the most profound experiences of parenthood for me. Helping her learn her letter sounds, recognize the writing on the pages, and support her through the frustrations that come with early reading, it's all been a rewarding joy to see. 
But when I wanted to fit a science book to her as a preschooler, there weren't many options. And that's what I sought to create when I wrote Science With Scarlett. I wanted to make a book about science that would speak to my daughter in her particular stage of life and allow me to share my love of science with her and help me share about our awesome gift of sight. I wanted something that would teach real science, but do it in an interactive way, yet still have characters and rhyming verse. And from there, Scarlett was born. It was intended to be reading that was matched to a person; it was a book for her; reading for her. 
As you can tell, I hated reading that happened to me, reading that was not for me, and I think you should, too, because we don't want to teach students that we choose reading for the sake of books, but rather that reading is for the sake of people—for them. That's what can really build a love of reading and lifelong learning through books.
Ultimately, what's most important to me now about reading, and reading in my family in particular, is that reading is something that brings us together. It gives us a chance to bond as a family and develop ourselves by experiencing the stories together—it makes us better people—and that's because we have a personal view of reading books that are for us.
---
Gary Abud, Jr. is an award-winning educator, author of Science With Scarlett, and a double cornea transplant recipient who, since having his sight restored, was moved to use his teaching gifts to make science fun for kids. He lives with his family near Detroit, teaches personal effectiveness skills to individuals, and writes to inspire children, like his own daughter, to love science. Gary is the 2014 Michigan Teacher of the Year. Learn more about Gary's work at SagaEducators.org and his book at ScienceWithScarlett.com
---