Do You Really Read Your Emails?
Posted: Dec 15, 2021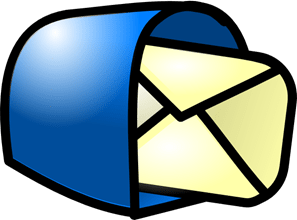 As I sit, once again, staring at the abyss called my email INBOX, I feel defeated before I even begin to conduct my "email triage." How am I to read all of these emails during my scheduled working hours? I see other people who manage to read their emails. How do they do it? Do they really READ the emails? Do they skim the emails? Do they ignore and pretend as if they read the emails? Do they reply to emails by copying and pasting responses?  Do they offer short, curt replies?
I have been suffering in what I call "email purgatory" for several years now.
Once, it seems not long ago, I requested that my email INBOX be enlarged so that I would not have to delete emails to receive emails (How many people out there are even old enough to remember that email storage was an issue?) Anyway, my request was denied. Now, since our email storage is unlimited, I often just push the "wish I could read" emails into folders for later. Nowadays, I can save as many pictures as I want to and have as many emails in my INBOX as I would like. But, this freedom comes with another side.  It often feels like people have nothing else to do but send emails. They "fire and forget." Then, it feels like the "ball" is in my court, almost like I am trying to return a Pete Sampras serve.  The emails go whizzing by me and I am standing still. What should I do? Do I open up the email and respond immediately?  Do I ignore it for twenty-four hours and respond later? Do any emails get "lost in the abyss?"
Why does it feel like the unread emails are sitting there in that INBOX, staring at me, and crying for my attention? Sometimes those emails feel like the voices of my students as they call my name all day, expecting an immediate resolution to whatever it is that they want from me. Sometimes, I ask my students if they like to call my name.  Many of them admit that they do, and then their eyes smile at me from behind their masks.  Can I infer that some people like to send emails?
 Am I expected to respond immediately like my students expect me to respond to them?
How many times has one of my students submitted an assignment at 2:00PM and expected it to be graded by 2:01PM? I can hear them now, "Ms. Pinkston, did you grade it yet?" I started to think about email overload.
Initially this blog was not intended to be about emails, but it seems like working through my feelings might help me sort out the uneasiness I have had for many months. Maybe, underneath it all, I view many things in my teacher life like an overloaded email INBOX.  Too many papers to grade?  Email INBOX.  Too many meetings to attend?  Email INBOX.  Sometimes I feel like I can't get my feet under me.  Sometimes I clear out the INBOX and within five minutes, there are three new ones.
There are so many timely topics that I could write about in this blog, and I am sure that you can think of a few as well. We could brainstorm a list of topics together. But, do you feel the anxiety starting to build already?  The longer the list, the more it feels like the INBOX filling up each morning. Please indulge me as I share timely topics that come to mind: I could write about how difficult this year has been for everyone, the emotional quagmire called "teaching in a Smartphone, pandemic world" filled with the highs, lows, grieving, anxiety, exhaustion, disappointment, retooling, restoring, joy, and reward that teachers have been feeling for the past three school years (two calendar years). I could write about how these past twenty-two months have made me question everything about teaching. I could mention that so many students are suffering and do not know how to ask for help.  I could explain that some days, as a teacher, I feel overwhelmed before I begin, and I find myself conducting triage on whatever situation needs to be addressed.
I will need more time to process the madness of this entire nightmare as a classroom teacher.  So, that blog will hopefully come later.
However, my overloaded email INBOX actually sparked a series of questions in my mind about how I (we) deal with emails, as compared to how I (we) deal with the students: Do we really "read" (see, acknowledge, engage, and work with) our students?  Do we "skim" (not see, glance at, pay minimum attention to) our students?  Do we "ignore and pretend" (ignore students who we know take the longest to form relationships with and/or communicate with)? Do we "copy and paste" (give the same energy and responses to all students even when we know that the student in front of us might need a different approach)? Do we offer "short, curt" replies when students are in our presence (almost an air of do-not-bother me, you do not matter enough for me to reply)? Do we "avoid" (shy away from students)?
It is a lot to think about and it takes time to unpack and reflect. I apologize if I am asking more questions than providing answers. All of us have our own ways of dealing with "overload." Having said that, for any teacher or person who deals with young people, I am writing this blog to encourage you to stop for a moment and regroup. Do not despair or feel defeated before you even begin. Learn to "READ" your students. See them.  Acknowledge them. Give them the time and attention that they need, and respond the way you think best. As for me, I will settle myself, sit down, open up this INBOX and start with the email on top. ☺
---
Mary E. Pinkston has been a math educator for thirty years in the Brandywine School District in Wilmington, Delaware.  Mary has served on the executive boards of the Brandywine Education Association, the Delaware Council of Teachers of Mathematics and the Delaware Professional Standards Board. A National Board Certified Teacher, Mary was the 2010 Delaware State Teacher of the Year, 2011 Presidential Awardee for Excellence in Science and Mathematics Education (Math), 2011 NEA Foundation Global Fellow and an NEA Foundation Awards for Teaching Excellence semifinalist. Mary also enjoys time with her family and involvement in several service organizations most notably, Delta Sigma Theta Sorority, Inc.
---